There are a few different options for downloading the information stored in PlanAccess:
Downloading Single Job Bundles
Once you have all the utility responses you need and are ready to download the plans, click the Download Bundle button at the right-hand side of the Summary section:


A popup will appear asking to confirm the download. Click Yes:

A message will appear at the top right of the screen advising the download is in progress. This may take a little time depending on the number and size of files received. The responses will then be saved in a .zip file in your Downloads folder of your PC/device:

Downloading Individual Utility Responses
If you only require plans from a single utility, you can click on the blue Download Bundle arrow icon to the right of the utility listing:

Downloading Individual Documents
If you only require a single document, you can click the

icon next to the utility name to expand the relevant listing, then click on the Response Name to bring up a pop-up window showing the documents sent on that response: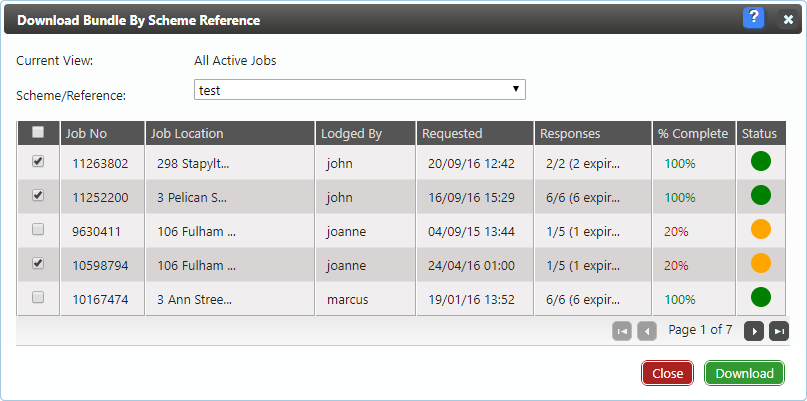 Click the blue Download attachment arrow icon to the right of the document listing:

Downloading Bundles of Job Bundles
If you have a group of jobs which are part of a single project, and share the same Scheme Reference (taken from the User Reference field in OneCallAccess, i.e. DBYD in Australia, beforeUdig in New Zealand), these can be downloaded as a group, or Scheme Bundle.
From the Dashboard screen, click the Download Scheme Bundle button from the top right of the screen:

The Download Bundle By Scheme Reference window will pop-up. Select the relevant reference from the Scheme/Reference dropdown menu, then check the boxes of the jobs you wish to include in the Scheme Bundle. Click the Download button to save the bundle to your PC: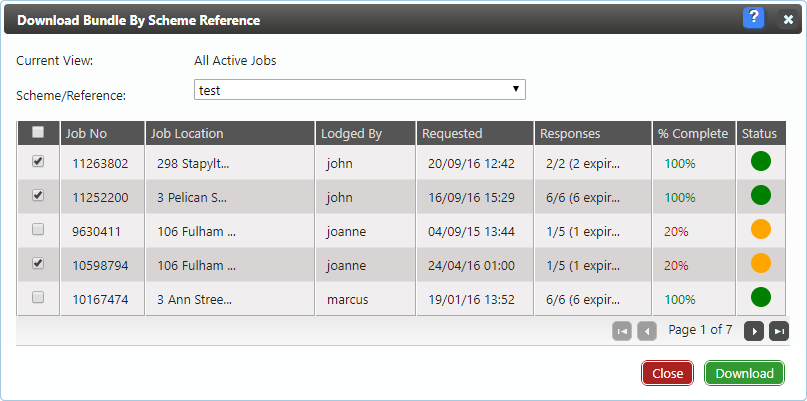 Some things to note:
You

can

still download bundles which contain expired plans. You will get an extra pop-up message advising that the bundle may contain expired responses. Best practice would be to

close

the enquiry in PlanAccess and resubmit it in DBYD/beforeUdig to get up-to-date information (if you are still working onsite).
You

can

still download bundles from jobs which have been marked as closed.
When downloading Scheme Bundles, PlanAccess will search the scheme reference according to the current dashboard list settings; so if you are in My Jobs view it will only search that reference among jobs you have lodged, or if you have added any Job Filters it will only search among those filtered jobs.